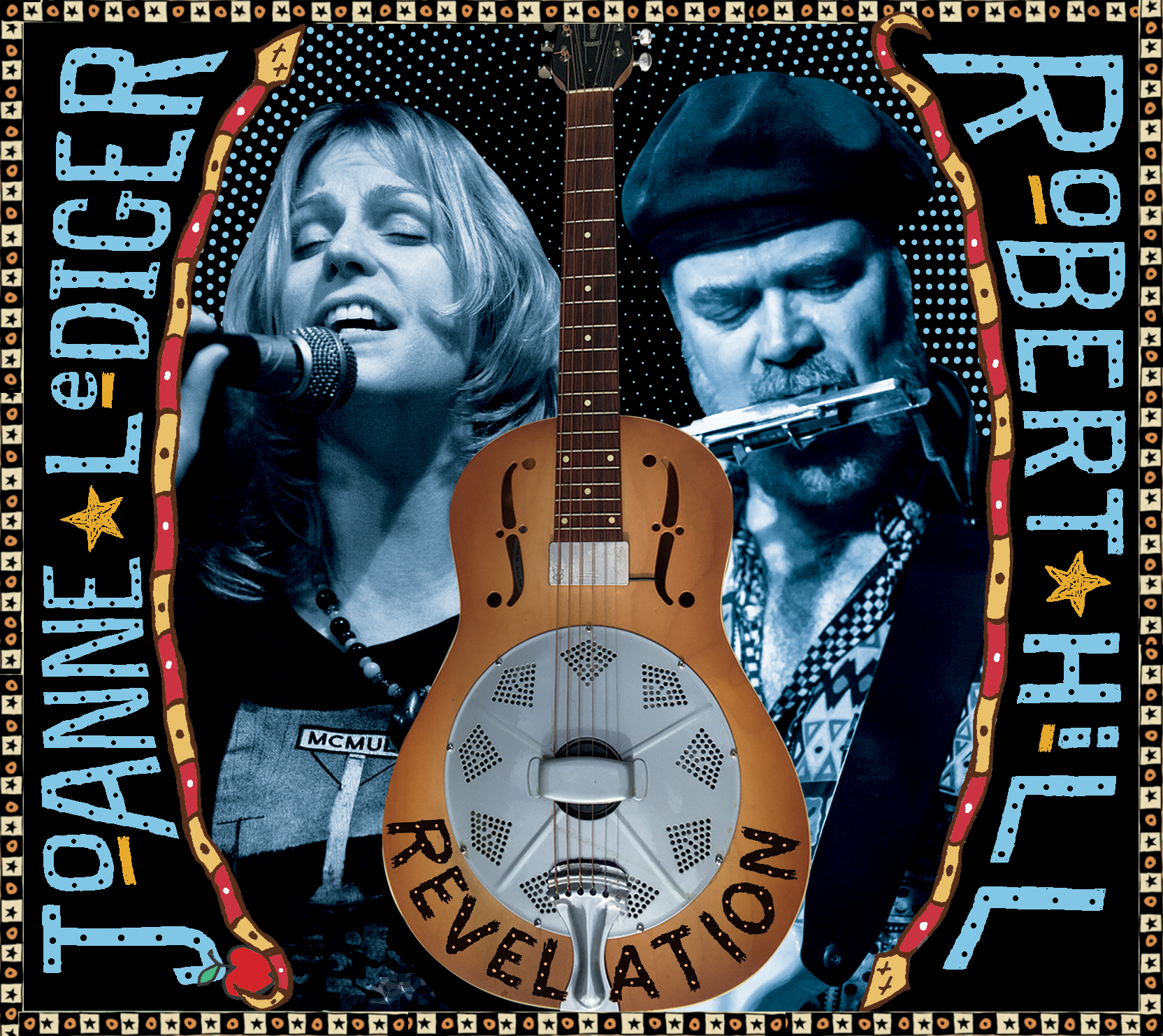 We are proud to have"Revelation" on the 1st Round Grammy® ballot for Best Traditional Blues Album!
https://bluesdoodles.com/bluesdoodles/robert-hill-and-joanne-lediger-revelation/ - Review from Bluesdoodles – the home of honest and independent thought about music and words.
"Blazing harp work...extraordinary guitar solos...Robert Hill certainly knows how to let the music take it's twists and turns like the Mighty Mississippi- with the smooth, powerful and soulful vocals of Joanne Lediger, the 'Devil's Music" couldn't get any better...every track is smokin' and radio worthy..music that most definitely was made to blow minds and lift spirits. "Revelation", a collaboration between slide guitar Hall-of-Famer, Robert Hill and acclaimed vocalist Joanne Lediger, is a spiritually rambunctious and joyfully delirious celebration of Gospel-Blues. -Northern Jersey Blues Society
"Although "John The Revelator" is often credited as "Traditional" (either no one knows who really wrote it or too many people claim to have) when it comes to its composer, Blind Willie Johnson is credited as being the first to record it, back in 1930. Since then, if we all had a dollar for everyone else who's performed it, we'd all be quite wealthy. That said, on the song that music critic Thomas Ward claims is "one of the most powerful songs in all of pre-war acoustic music.....", this rendition is one of the most powerful I've had the pleasure of listening to. Between Robert's muscular guitar leads and his haunting harp leads; the robust rhythm groove Steve and Frank are in; and Joanne's compelling lead vocals combined with the angelic harmony vocals she and Paulina are belting out; everything about this performance is absolutely masterful. Take a well-deserved bow!" -Review by Peter Blewzzman Lauro, Blues Editor, www.mary4Music.com
Hill, originally from North Little Rock, Arkansas, has been living and performing around the New York City area for the past 30 years and performing with Joanne Lediger for the past 15. He was inducted into the New York Blues Hall Of Fame in 2014. An award-winning artist, not only for his slide guitar work, but also for his songwriting, winning in numerous songwriting competitions including Billboard, Unisong, and the ISC. 
Born and raised in Rockland County, New York, Joanne Lediger is a vocalist who has been performing live and recording with bands professionally for the past 35 years. Joanne has had the opportunity to record and/or perform with musical acts/musicians such as Joe Cocker, Vassar Clements, Derek Trucks, Dr. John, Steve Kimock, Larry Campbell, Buddy Cage, Cornell Dupree, Chuck Rainey, Leo Nocentelli, John Popper, Bernie Worrell, Jorma Kaukonen, Jack Casady, to name a few.
Backed by Frank Pagano on drums, Steve Gelfand on bass, and Ed Alstrom on B3, "Revelation" is a contemporary, refreshing, and original take on a traditional genre, Gospel Blues.